Check Out These 12 Unique Gift Ideas For The Bold, Brave, And Beloved Dad.
1. FOR THE DAD WHO LOVES SURF N' TURF
With this set, your Dad can enjoy the comfort of some familiar favorites with a spark of excitement for the improvements we've made to them! For example, if your Dad LOVES lemon pepper on his wings, his taste buds will throw a party for the lime and orange we've added to our spice blend in the Citrus Pepper!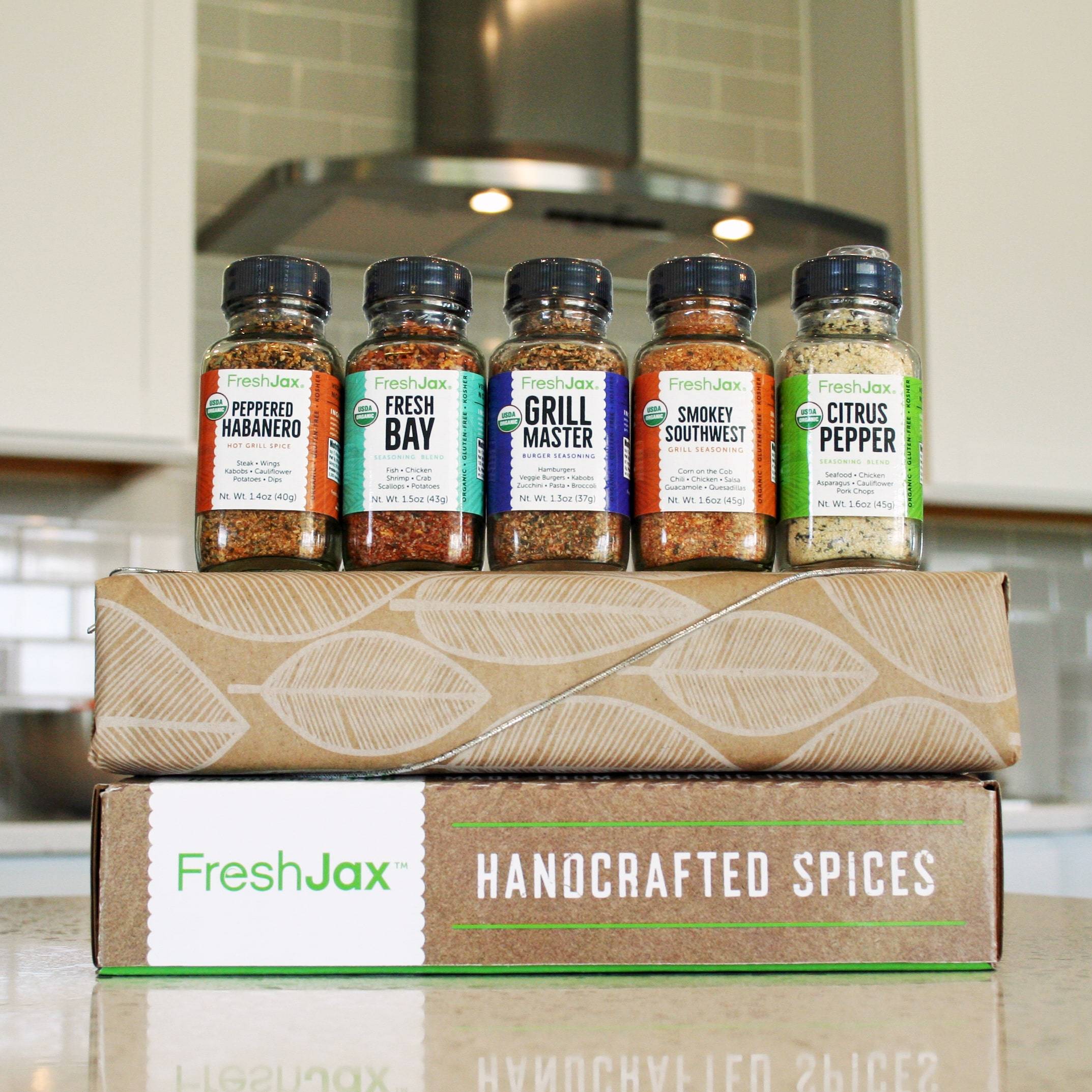 2. FOR THE DAD WHO NEEDS TO MAKE HIS OWN DANG SANDWICH
Fact: Toasty melty sandwiches are wayyyyyy better than cold ones. With this gadget, you can make your Dad's crispy sandwich dreams come true without even lifting a finger!
3. FOR THE DAD WHO JUST WANTS TO WIN THE CHILI COOK-OFF
Does a warm bowl of chili with cornbread remind you of home? This chili powder with bring Dad the coziness of his favorite chair and warm hugs from family no matter where he is.  
4. A SHARP KNIFE FOR A SHARP DAD
Dads may laugh the loudest at their own jokes, and with their best attempts at humor, we can at least all agree that life with them is anything but dull. With a knife like this, he'll get to spend less time prepping and more time nailing those punch-lines.
5. FOR THE DAD WITH A VEGAN DAUGHTER
ROSY CHEEKS MAPLE BOURBON BBQ RUB
Rosy Cheeks will compel Dad to swap out the sticky old condiment bottles for the ease and delight of this clean and sweet maple bourbon barbecue.Plus he will love it on his steak as much as his vegan kids will love it on a Portabella mushroom!
6. FOR THE DAD WHO LIKES A CLUTTER-FREE WORKSPACE (WHO DOESN'T?)
Everyone loves a clutter-free kitchen. Help Dad get organized for maximum efficiency so he can focus less on the not-so-fun hassle of cleaning and more on cultivating his creative cooking talents.
7. FOR THE DAD WHO LOVES OLD WESTERN MOVIES
Truthfully, whether your Dad is up at sunrise or marveling at the sunset,If he is a coffee drinker, or a tea drinker,a cowboy or a city boy,The sweet heat of this rub is sure to make his eyes sparkle all the same.
8. FOR THE ECO-FRIENDLY DAD
Sometimes, we just don't feel like breaking out the BIG cutting board. Consider treating Dad to a variety. Whether he's making a quick bite or a multi-course meal, the choice will be his and it will be sustainable because these boards are made with renewable and sturdy bamboo!
9. FOR THE DAD WHO LOVES A LIT FIRE
We've all heard of Taco Tuesday but what about Smokey Saturday? Heck, let's have both! Combine Dad's love for TexMex and grill smoke with this delectable set of unique blends for marvelous meals every day of the week.
10. FOR THE DAD WHO LOVES HIS COFFEE AS STRONG AS HE IS
Give Dad the peace of slow living every morning with the luxury experience of French Press coffee...but not just any French Press...this BPA-free pretty brass-colored one.
11. FOR THE DAD WHO EATS HOT PEPPERS RAW WITHOUT FLINCHING (MINE DOES!)
My Dad has a tendency to put too much salt and hot sauce on everything. The surprising strength of Ghost Pepper will bring out the best of flavors in any meal and regulate his salt intake because a little of this deliciousness goes a long way.
12. FOR THE DAD WHO WANTS TO TAKE HOME COOKED FOOD ON-THE-GO
BKLYN BENTO THERMOS WITH BAMBOO SPOON
Whether your Dad travels, camps, or commutes to work, they all have something in common: They appreciate a homemade meal and they probably don't like settling for drive-thrus.