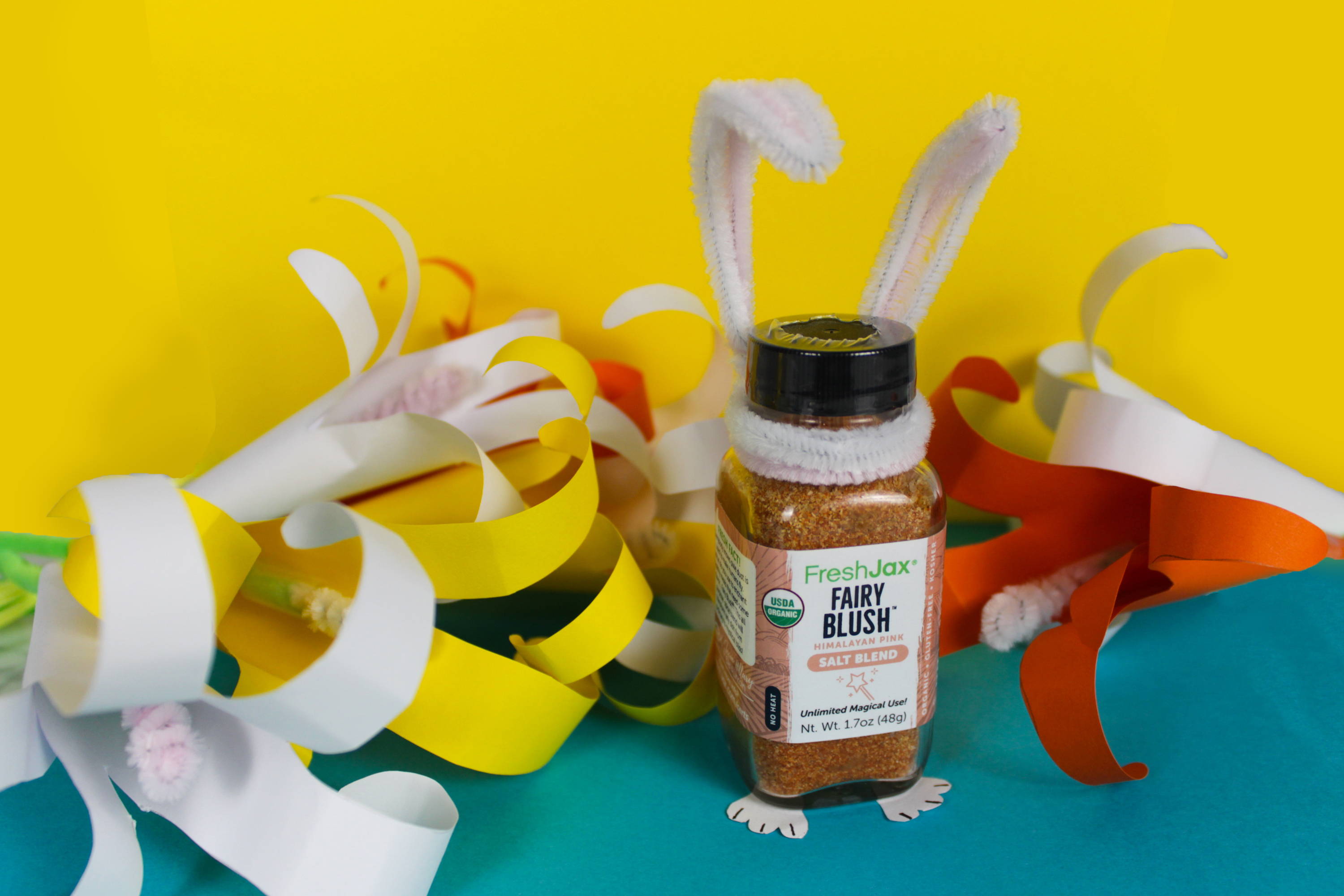 Try these DIY craft ideas with your kids this holiday weekend for some unique family focused fun. Did you know that you can actually use FreshJax® Organic Spices for craft projects?
 My name is Paige and I am on the Gifting Service Team at FreshJax! I am a zookeeper turned "spice girl" with a mission to help others. My family is extremely important to me, which is why writing this blog was so much fun. I love helping others find new ways to spend time with their loved ones. 
Easter has always been one of my favorite times of the year. It always meant that spring had arrived, the flowers were in full bloom, and it meant getting to spend special time with my loved ones. My family would come together to celebrate our traditions and also try something new! Delicious meals, Easter egg hunts, and dyeing eggs just to name a few. In this article, we are going to change the game! Let me introduce you to some "fresh" ideas to try with your family for an "egg-cellent" holiday weekend.
One great way to spend time with your family is by setting up a group craft project. A classic Easter craft is dyeing eggs. Did you know that there are natural ways to dye your eggs!? 
YES!
In fact, there are even ways to color your eggs using FreshJax® Organic Spices! The natural way to dye Easter eggs is by using the power of pigments found naturally in various food items and plants. In addition to using a more natural method for this craft, there is also a sustainability aspect too! This is a great way to use up some material in your fridge that may be turning bad soon. Here is a list of some of the ingredients you could already have around your house to dye eggs the natural way.
FreshJax ® Organic Spice: Turmeric Yellow Curry

FreshJax® Organic Spice: Sunrise Cowgirl's ® Coffee Rub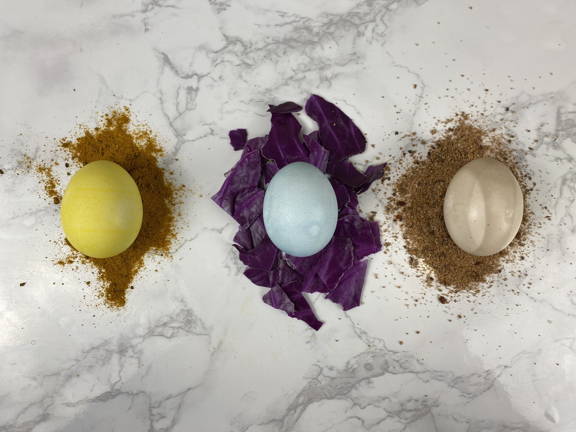 Along with this ingredient list, you will also need a few other kitchen materials to get the job done. These items include white vinegar, tablespoon, sauce pan, 1 cup measuring cup, strainer with lid, and a resting dish (1). Don't forget plenty of paper towels for easy cleanup!
Most colors can be made using a 1:1 ratio from ingredients to water and vinegar, with the exception of the "spiced" colors, being Turmeric Yellow Curry and Sunrise Cowgirl's ® coffee rub. Refer to this chart below for measurements.
Please keep in mind that the chart is a guideline. Using more ingredient material will create a more potent color. Once you have all your materials and ingredients, it's time to start dyeing your eggs!
Use a separate saucepan for each individual color you intend on making. Add the required amount of water and vinegar for your desired color to the saucepan and bring to a boil.


Once the water is at a roaring boil, add your ingredient, and lower the heat. Simmer for 30 minutes.


Once desired color of water has been reached, remove from heat.


Using a strainer, or slotted spoon, strain the dye and remove any ingredient material from the pot.


Once strained, add your eggs into your pot of colored water and let soak for 30 minutes.


The longer you soak the eggs, the more vibrant your colors will be!


Remove eggs with tongs or a slotted spoon and pat dry with a paper towel.


Repeat this process for each individual color you would like to try!
This is also a wonderful chance to experiment with different shades of colors and even different eggs! What will your colors look like if you use brown eggs vs white eggs? What will your color look like if you let it soak for 20 minutes vs 30 minutes? What will your colors look like if you double dye your eggs in two different colors?
Get creative and have fun! What crazy cool colors and designs did you come up with? To join in on the fun, be sure to head on over here to grab a bottle of our Sunrise Cowgirl's® coffee rub, or here for our Turmeric Yellow Curry spice blend.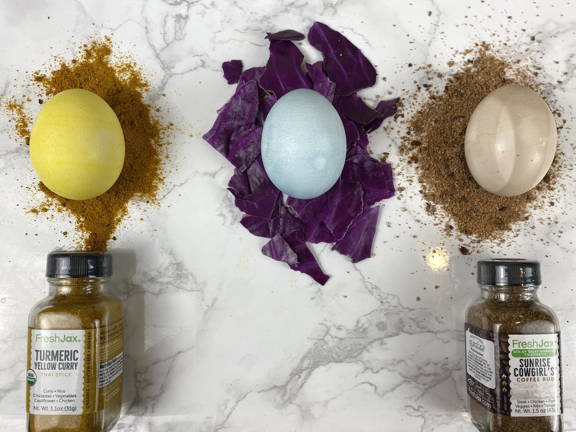 Did you know that there is a special flower that represents Easter? It's the lily! The Easter Lily to be precise. Many flowers found in nature hold special meanings. The Easter Lily represents hope, purity, and new life in spring (2).
The Easter Lily has also been a prominent symbol for the Christian religion. Since the lily represents rebirth and hope, the growing of lilies is often associated with new life in spring and the resurrection of Jesus during Easter (2). 


Build Your Own Beautiful Bouquet 
This next craft is a simple, yet gorgeous paper design that allows your family to work together to create these special flowers. As an added bonus, these are "handprint" lilies, so your little ones will have special flowers made just for them! Here is the list of materials you will need for craft #2. For additional information and pictures to follow along, please the following site (3).
Green, yellow and/or white pipe cleaners
To start, take a piece of construction paper, either white, pink, or any color you desire! Place your hand on the paper, and using your pencil, trace an outline of your handprint. Once completed, carefully use scissors to cut out the handprint. Take the now cut-out handprint, and roll the base of the "hand" so you get a cone shape. You want the hole at the bottom of your cone to be just big enough to fit a pipe cleaner through. Use a small piece of tape to secure your cone in place while leaving the hole at the base open.
Now take your pencil and wrap one of your "fingers" of the lily around the pencil. Continue rolling your paper around the pencil, in an outwards fashion. This will create the curl of the flower petals. Repeat this step for all petals on your flower.
Once your flower is curled and ready to go, now it is time to create the stem! It is best to use pipe cleaners that are 6 inches in length. If you have the longer, 12 inch pieces, you can cut them in half. You will need 2 different colors of pipe cleaners for this section. I used green for the stem and white or pink for the pistol (the center part of the flower).
Begin by taking your green pipe cleaner and creating a small "J" hook at the very top. Then, taking your white or pink pipe cleaner, fold it in half. At the base of your white/pink pipe cleaner, "hook" it onto your green pipe cleaner at the "J" hook site. While keeping one side of your white/pink pipe cleaner straight up, take the other side and fold it in half again. You will then take the longer side and wrap it around the half folded section of the white/pink pipe cleaner to form your flower's center. Once you have your connected and completed stem, slide your pipe cleaner into your previously created cone of your paper flower.
Make any final adjustments you have, and Ta-Da! You have a beautiful paper lily that is unique to your own hand. From here you can try different colors of paper and pipe cleaners to make a special flower bouquet for your friends and family.
Easter is a great time to find something new and exciting to do with your family and loved ones. Try our suggestions above and any new Easter crafts or recipes you try over the holiday. Be sure to post your pictures and tag us! We absolutely love to see our fans and their families having a blast!
This post is featured in Twinkl's Easter Celebration, find me in Fun and Eggciting Ways to Celebrate Easter. Be sure to check out their blog page as well for additional tips and tricks!
Happy Easter
Are you looking for more creative crafts or recipes? Be sure to follow us on social media for continued updates on our blog! 
Do you have any other unique uses for our spices? We would love to hear about it! Be sure to post a comment below with your creative ideas.