PUT THE BLENDER DOWN! Aren't You Tired Of Being The Boring Gift-Giver? Spice Up Any Housewarming With FreshJax!
Moving to a new home, first apartment, or brand new city is an exciting chapter that's worth celebrating! If someone you love is hosting a housewarming in the brand new place (or even if you wish to send a little something), think about gifting fresh spices.
No kitchen is complete without the versatility of spices and herbs. Nothing says, "Congratulations on your move," like a practical and unique housewarming gift.
At FreshJax, we specialize in fresh spices, seasoning blends, and herbs that are handcrafted using nature's best ingredients. Our products are completely organic and free from preservatives and artificial flavorings. No fillers, only amazing taste!
When they're hard to please, play it safe and pick something you know they will love. The Build Your Own Gift Set allows you to hand select blends for the new homeowners in your life.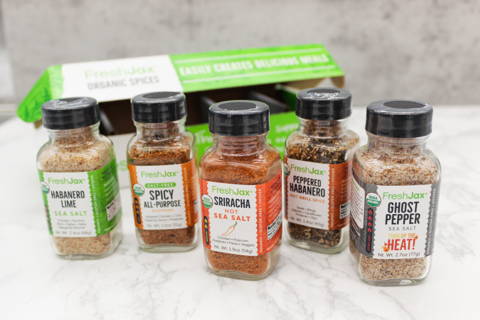 Know a free spirit who dropped everything and moved miles away? I'm sure they are not afraid of a little heat, which means our Organic Hot & Spicy Seasonings Set is the perfect addition to their new kitchen. These spice blends bring the heat AND they're easy to pack up for their next move!
Need a gift for someone who spends most of their time in the kitchen? Let their taste buds nerd out with our 25 Organic Spice Essentials. Complete with 25 fresh spices from our collection, this is a generous (and delicious) gift for any aspiring chef on your list!
Do you just absolutely love FreshJax Organic Spices? Help us out! CLICK HERE and leave a review on your favorite FreshJax spices.