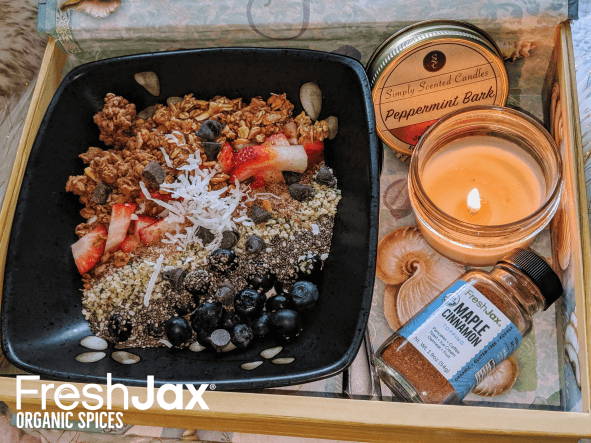 Want To Surprise Mom On Her Day? Make Her Feel Special With Breakfast In Bed With This Easy FreshJax Recipe.
Silk vanilla almond milk yogurt
super sweet strawberries and blueberries
1 Tbsp. fun fresh-ground flaxseed *(Flaxseed, unlike other seeds, only digests and can offer us its valuable nutrients when ground!)*
1 Tbsp heavenly hemp seeds
1 Tbsp chill chia seeds
cool coconut flakes
Love Crunch dark chocolate & peanut butter organic granola
Bake Believe stevia-sweetened dairy-free dark chocolate chips *(because you deserve it.)*
Pour yogurt into the cutest bowl you can find and be sure to get every last drop of vanilla goodness.
Chop strawberries and toss fruit onto yogurt.
Sprinkle all dry toppings to your heart's content. Do not hold back on the granola.
Dazzle your dish with a generous dash of Maple Cinnamon.  Add more if you're a Mother.
Light a candle for ambiance.  We use Jacksonville-based handcrafted Simply Scented candles!
Get cozy and indulge like royalty.
Ready to escape into maple-filled moments? Get your very own Maple Cinnamon Topping here.