Endless Flavor. Delivered.
$30.00 Per Box + Free Shipping!
$30.00
Cooking is one of life's greatest joys, the other is eating!
But few things rob you of that joy faster that realizing you are missing an essential spice that you need to make the perfect dish. Or worse, that it is expired.
That is why FreshJax is so proud to introduce our new FreshJax ReFresh option!
By subscribing to this curated collection of our most popular blends (as well as some hidden gems and incredible previews ) you can ensure that you are always receiving Fresh New Flavors Turn Healthy Food into Delicious Meals.
[Spoiler!] Second ReFresh Box
[Spoiler!] Third ReFresh Box
[Spoiler!] Fourth ReFresh Box
Shipping

Shipping on ReFresh Orders is Always FREE anywhere in the U.S.
View full details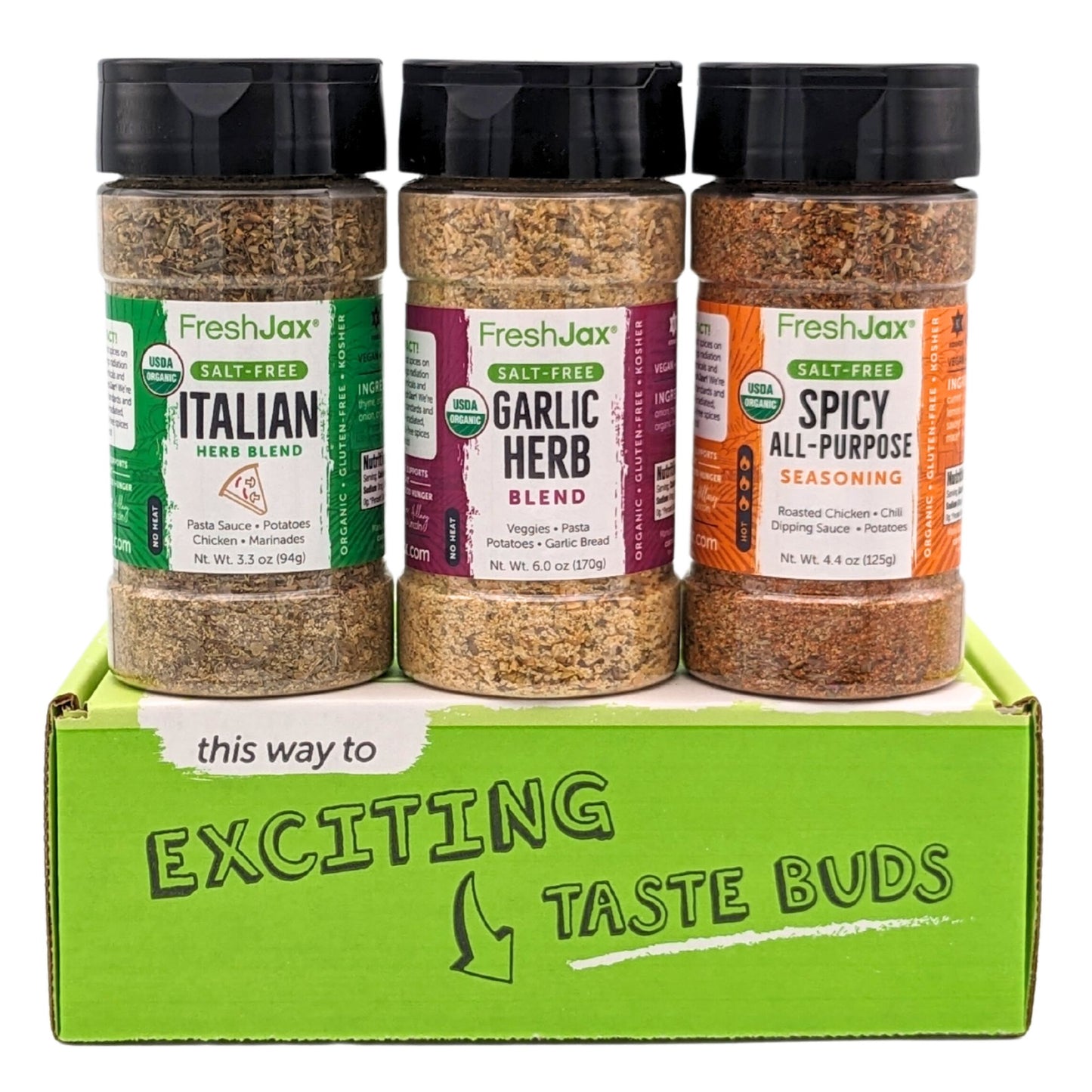 How Does It Work?
Large Bottles Mean You Can Enjoy Your Favorites for Longer

Every Box Brings New Flavors For You To Enjoy

It Makes It So Easy to Turn Healthy Food Into Delicious Meals
Sounds Tasty! Tell Me More....
How many flavors do I receive and how often do they arrive?

Each ReFresh Box has 3 Curated Flavor Blends to try. Boxes ship every three months with brand new flavors.
What do I get with a ReFresh Subscription?

A variety of FreshJax Seasoning Blends! Think of them as a Playlist of Fresh Flavors. Across the months you'll get a curated variety of different blends, and sometimes you'll get a repeat of some favorites. Sometimes you may even get some special previews and limited edition Flavors!
Can I swap my flavors with each delivery?

Absolutely! If you log into your subscription dashboard, you can swap products to make sure you get the blends you want for each delivery.

If you select a FreshJax ReFresh Subscription, we will do the work for you and choose a rotating variety of Flavors. Keep it a surprise, peek if you want to, and skip what doesn't interest you.
What if I end up with too much flavor?

No problem! Easy subscription management allows you to pause or skip any Refresh Box. It's Good Taste on your terms.
Do I have to commit to the subscription?

No commitment necessary. We joke a lot, but we are very serious about one thing:

It's Good Taste on your terms.
How do I manage my Subscription?

It is so easy. Simply log-in to your FreshJax Account and click Manage Subscription. From there you can Edit, pause, skip, or cancel your ReFresh Subscription.
Does my Subscription count towards 1 Box = 1 Meal?

Of Course!

It is our mission to to do all we can to help stamp out Childhood Hunger in our community. Every box sent through the FreshJax Refresh Supports our 1 Box = 1 Meal Campaign.
Still have Questions?

We'd Love to help. Call 904-337-9750 (Monday -Friday 8-4 EST) or email us at hello@freshjax.com