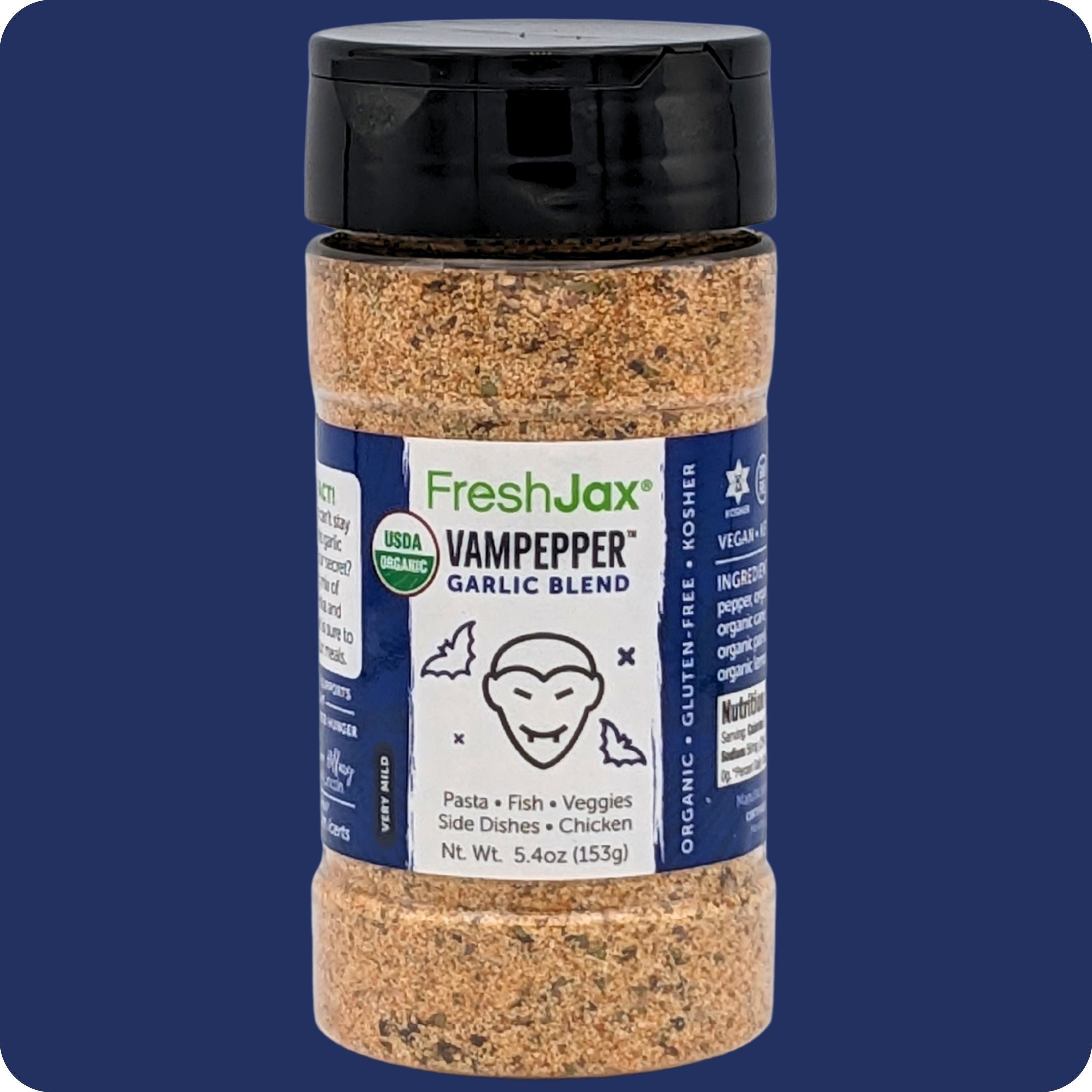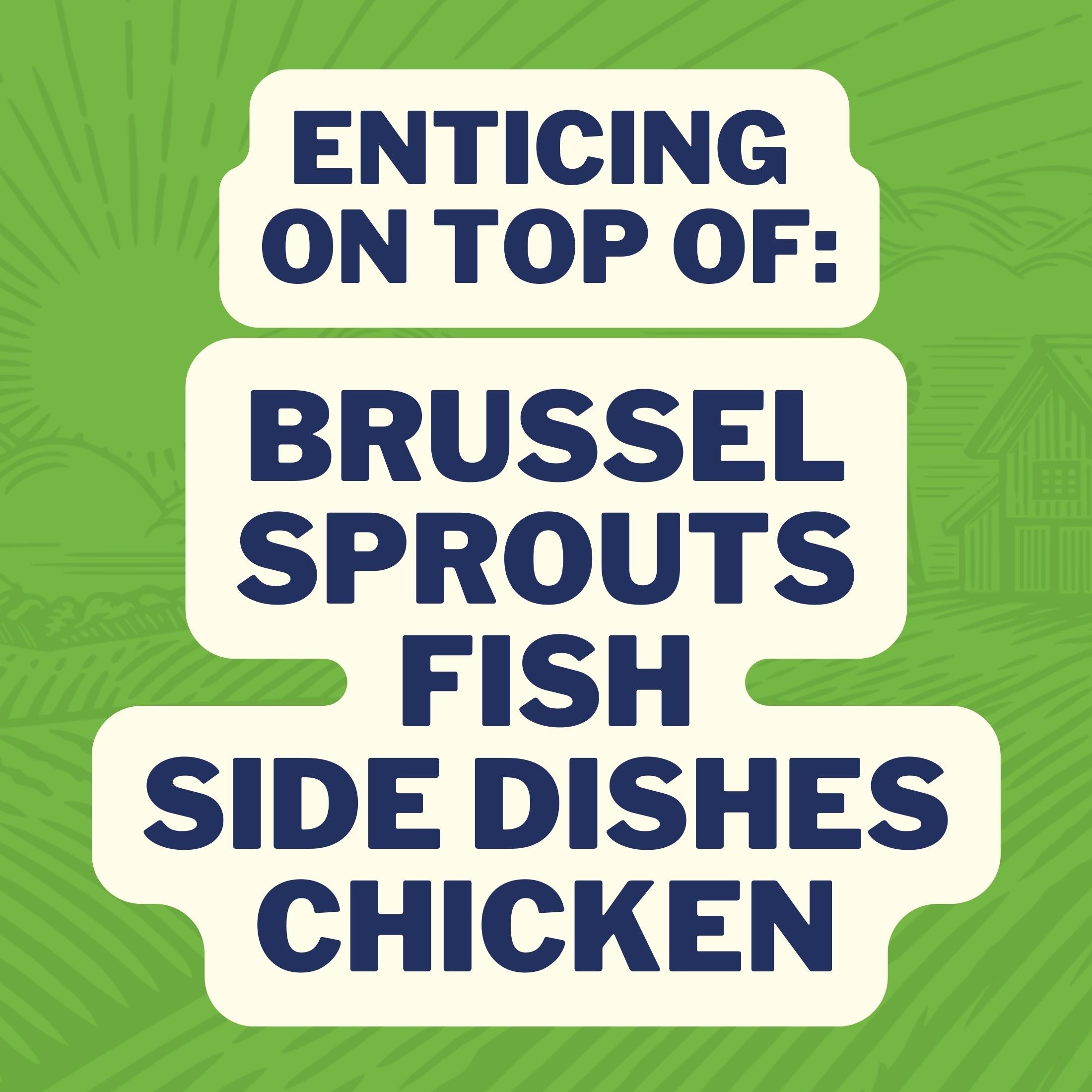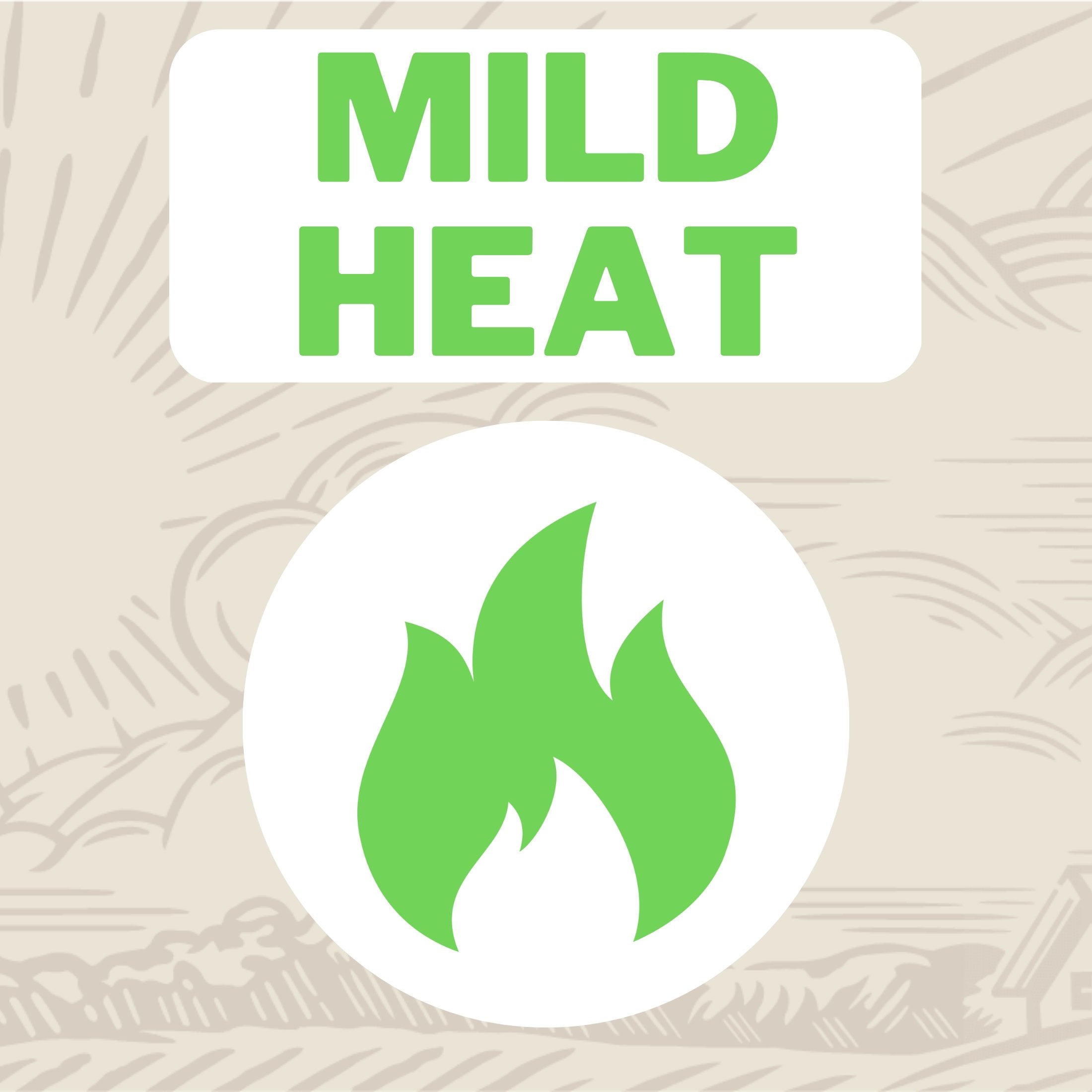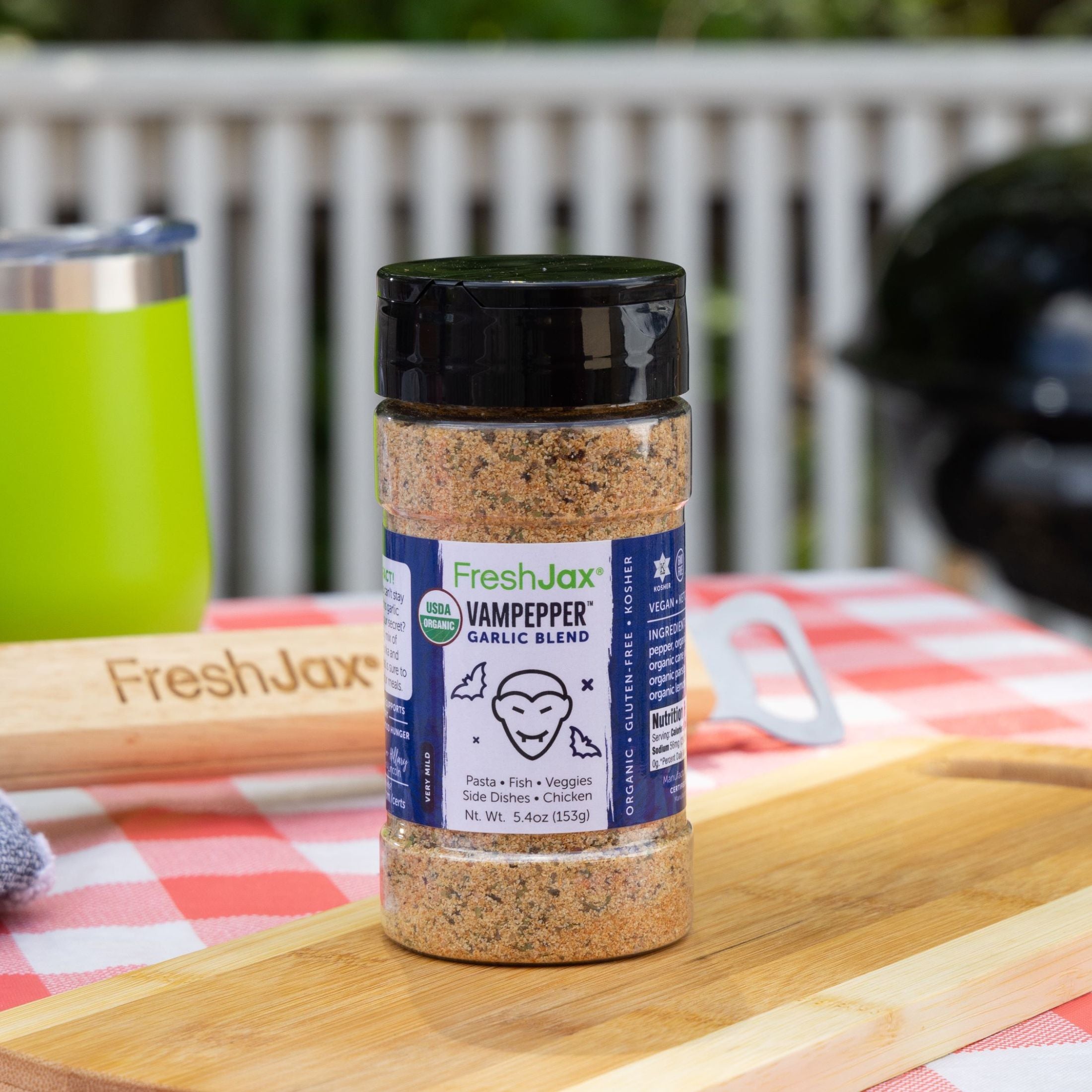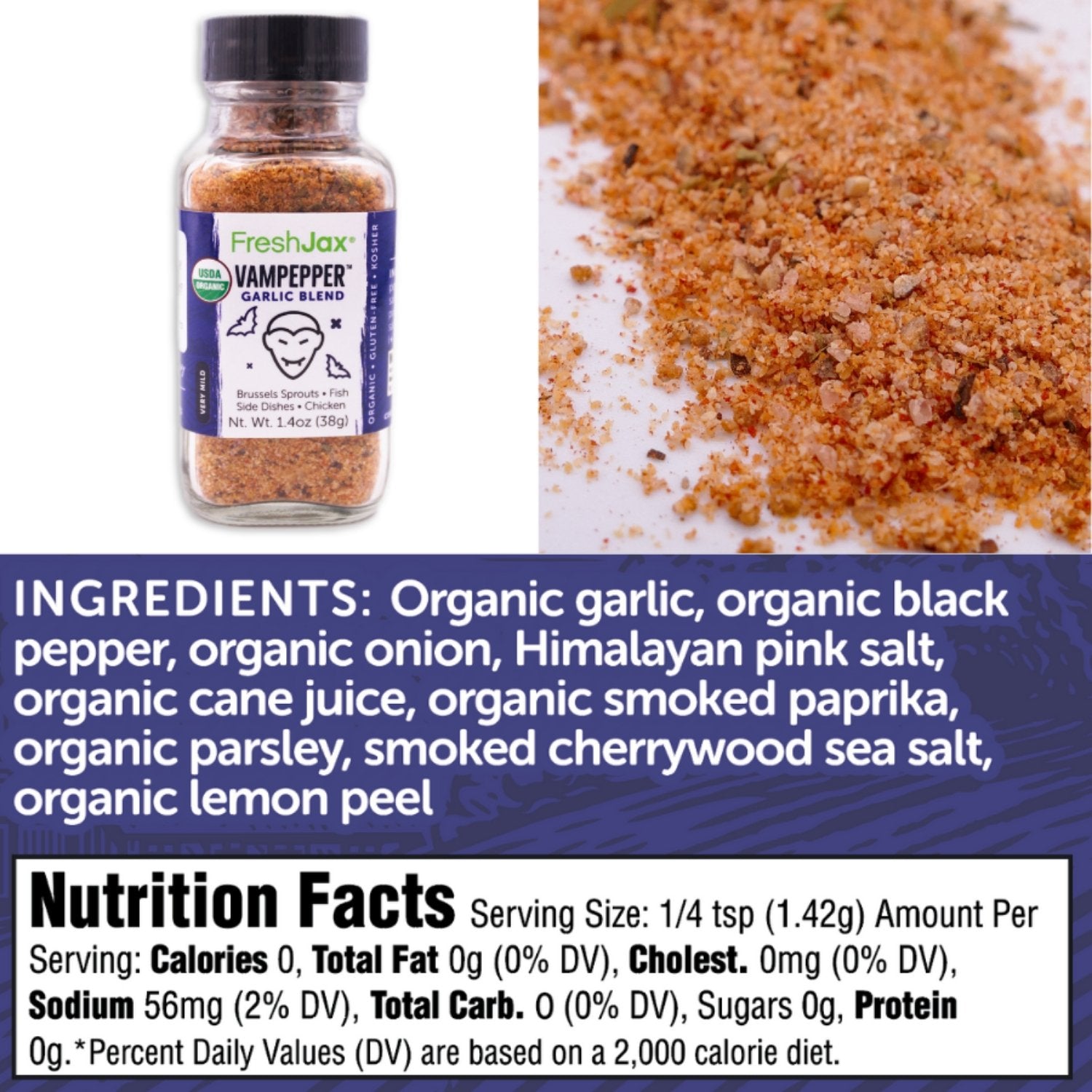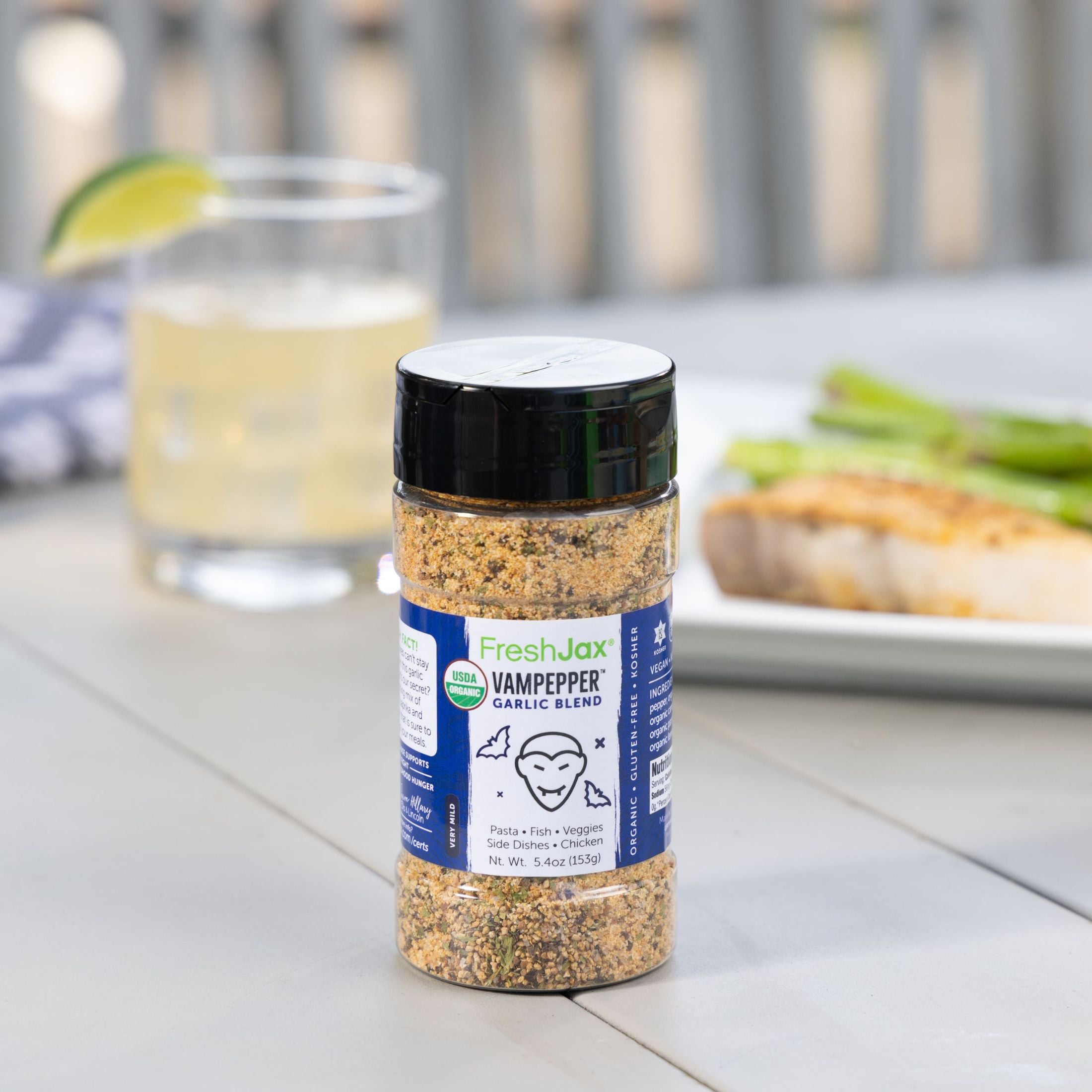 VamPepper® Garlic Pepper Seasoning Organic
Order and get
0

PepperCoins

Sign Up for Spice Club to Trade PepperCoins For Perks Today
---
This Garlic Pepper Blend Combines Organic Ingredients and FreshJax's Flair for the Dramatic in a Flavor That is Awesome in Every... Bite
Enticing on top of: Brussel Sprouts, Fish, Side Dishes, and Chicken
Ingredients: Organic garlic, organic black pepper, organic onion, Himalayan pink salt, organic cane juice, organic smoked paprika, organic parsley, smoked cherrywood sea salt, organic lemon peel
Heat Rating: 🔥 Mild
We all know Protection from Vampires 101: Use garlic 🧄 as a weapon and stay in the daylight. Vampires 🧛🏽‍♂️ despise garlic, right? They did, until we released this new VamPepper® Garlic Pepper Seasoning. It's so delicious, even vampires can't stay away!
"VAMP" up your meals with this Dracula-approved 💜 blend. A unique mix of flavors like garlic, black pepper, and smoked cherrywood salt make a marvelous seasoning for vegetables, chicken, and fish. Ghouls and goblins will come from all over the lands to try a taste.
Free Shipping for Orders Over $47.00, otherwise $4.95 Flat-Rate anywhere in the continental US.
Orders Ship within 1-2 Business Days.
Orders Over $75 require Signature Confirmation
Curbside Pick-Up Available!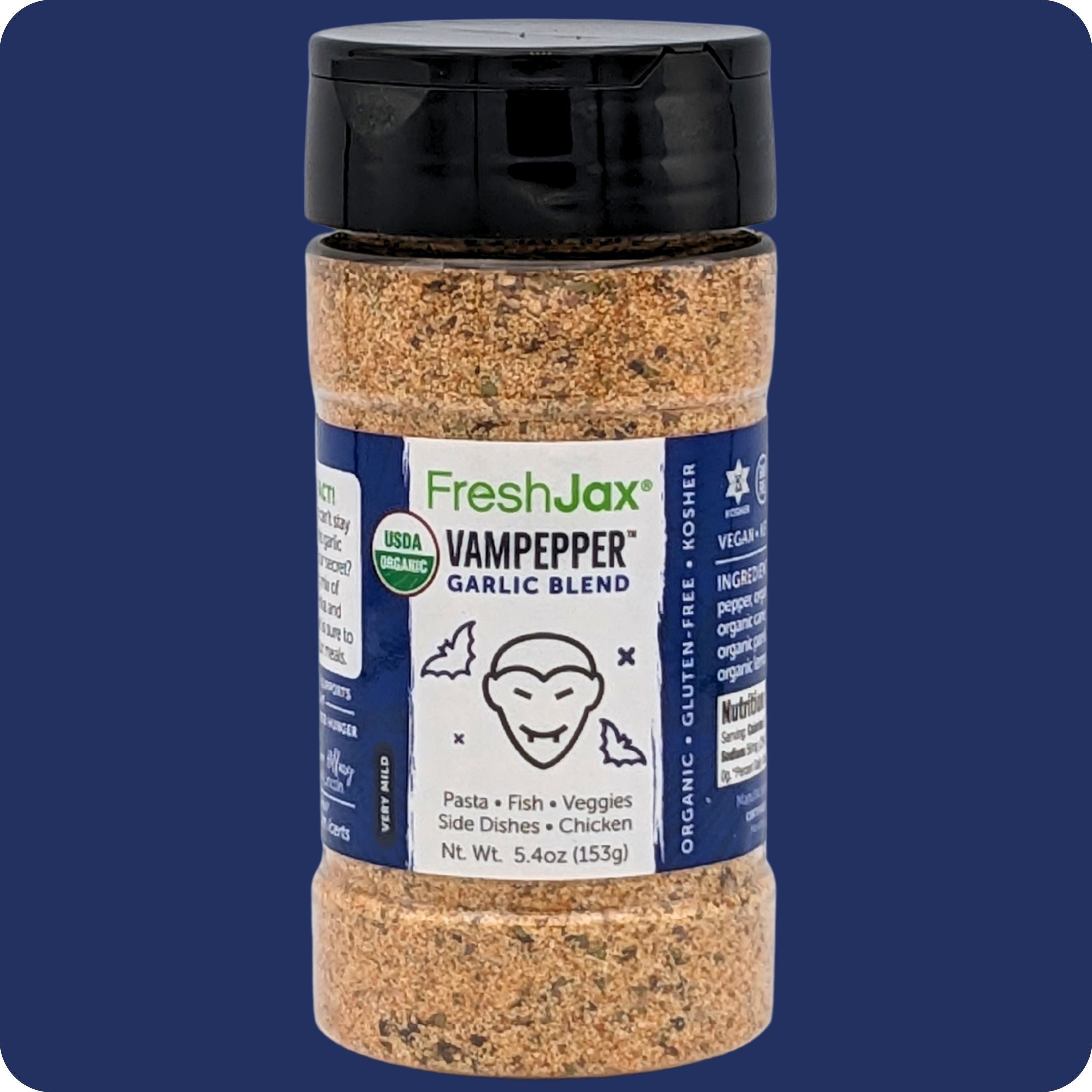 Order and get
0

PepperCoins

Sign Up for Spice Club to Trade PepperCoins For Perks Today
Want to Know More?
Here at FreshJax we all about being open and honest with you. That is why we always:
List ALL of our ingredients
Only use Ingredients you can pronounce
Love to share Our Favorite Recipes (Our Family Recipes Aren't Secret)
Enticing On Top Of:
Brussel Sprouts
Fish
Side Dishes
Chicken
Ingredients: Organic garlic, organic black pepper, organic onion, Himalayan pink salt, organic cane juice, organic smoked paprika, organic parsley, smoked cherrywood sea salt, organic lemon peel
Vampepper Sampler - Net Weight - 1.4 oz.
Vampepper Large - Net Weight - 5.4 oz.