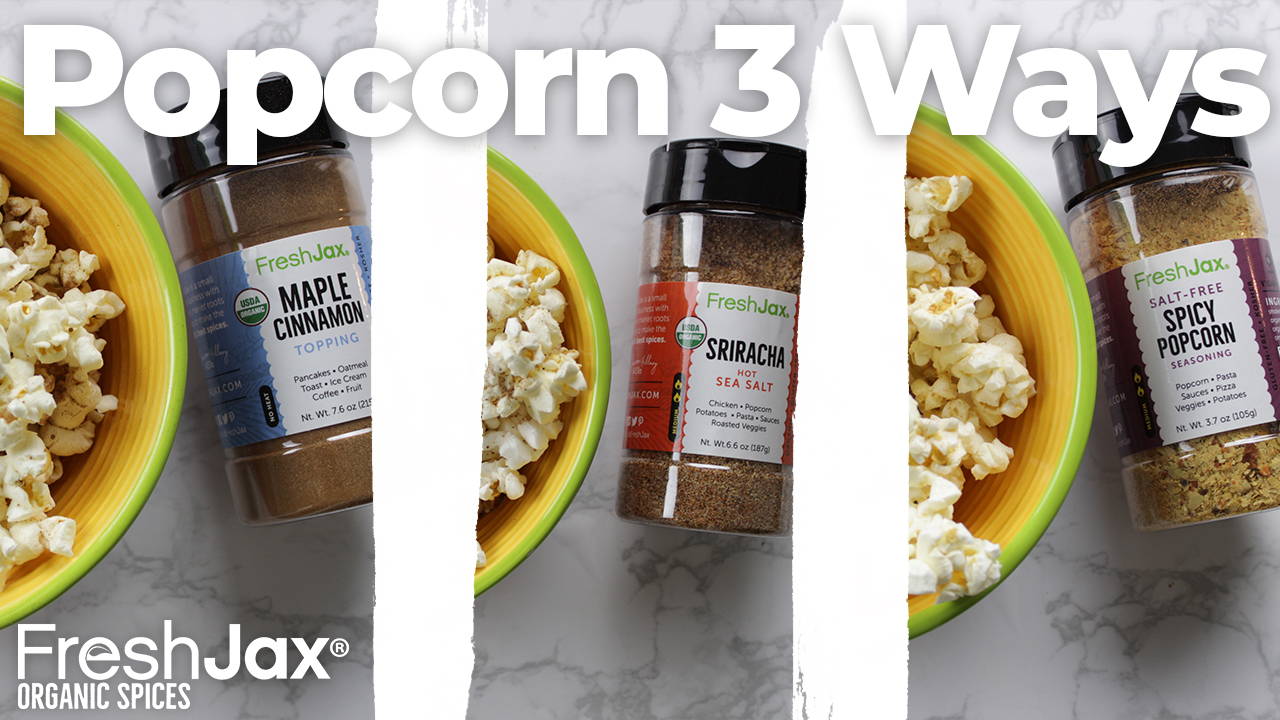 Popcorn is a healthy snack that's great for enjoying during a movie, with lunch, or on the go. As whole grain food, air popped popcorn contains a variety of nutrients including B vitamins, manganese, iron, zinc and magnesium. Most importantly, popcorn is rich in fiber, offering 15 grams in a 1 cup popped serving.
While popcorn can be enjoyed with butter and salt ala movie theater style, it's a healthier option to air pop your popcorn and use gourmet seasoning blends to give it a little extra flavor without adding on the calories.

The next time you're craving a little zing on your popcorn, try any of these gourmet seasoning blends from our collection:
Spicy Popcorn Seasoning: Spicy, cheesy (but completely dairy-free!), and totally delicious. Perfect to try if you're new to seasoned popcorn.
Sriracha Sea Salt: If you can't get enough of hot chili sauce, then this flavored salt is a zesty pick for sprinkling on when you settle in for a snack.
Garlic Herb Seasoning: This gourmet seasoning blend gives an Italian flair to your popcorn. Kick it up another notch by adding a bit of grated parmesan cheese.
Maple Cinnamon Topping: Your sweet tooth will be delighted at this cinnamon sugar blend. Add some nuts or dried fruit into your popcorn to make a twist on trail mix!
Mesquite Lime Seasoning: This seasoning blend is smoky, citrus-y, and totally refreshing.
And these are just a few seasonings to try! Popcorn is so incredibly versatile that it can be styled with sweet, salty, or savory toppings to make it even more irresistible. Feel free to get creative with salts, herbs, spice, and more until you find the gourmet seasoning blends that make this snack sing. Plus, popcorn is a great snack for any occasion! Kids and adults alike both love a good bowl of popcorn, so you can really tailor your spices to your audience.
Check out our gourmet seasoning blends today to see how you can make your popcorn pop!